Send forms to employees by clicking Send Forms right from the forms dashboard.

You'll see a pop-up where you'll enter which forms you want to send to which employees.
You have the option of sending the employee an email notification letting them know they have forms to sign. This email has been designed by Maxwell and cannot be customized, but click here to see a copy.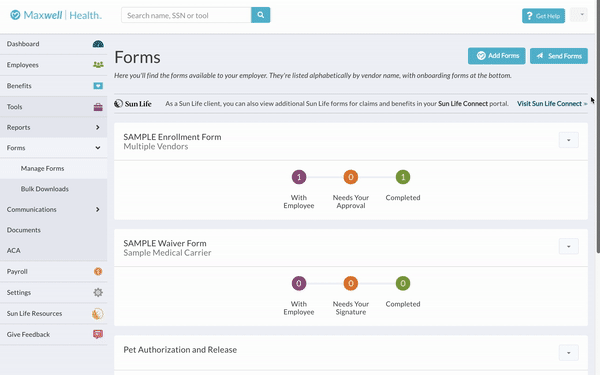 Notes
Standard Administrators will only see employees for the eligibility groups that are visible to them.
Carrier forms associated with products are usually set up to be sent automatically when an employee takes a certain action in Maxwell. You might not need to send carrier forms manually. Learn more about form settings here.

If you do decide to send carrier forms manually, you should send them after the employee has checked out of shopping, but before you've processed their products (while their products are in a status of "Confirmed"). That way, their product information will autopopulate on the form, which means less to fill out for both you and the employee!

You will have a chance to view and edit the form when it returns to you for approval/signature.
If you need to, you can re-send a form to an employee. Please just make sure to delete any previous versions so that you don't have duplicate forms.
Employees who do not have an email cannot receive email communications or electronic forms from Maxwell until they have an email address entered. You will be not able to include those employees when sending forms.