In this article, you'll learn how to enter your company's payroll calendar into Maxwell. You'll want to enter and keep your payroll calendar updated if you:
Offer financial products (examples: HSA, FSA, LFSA, DCA) so that per pay period amounts are calculated correctly. If you do not enter a payroll calendar, our system will assume your payroll schedule based on the eligibility group's pay frequency. Learn more about how Maxwell calculates per pay period amounts here >
Use a Discovery Benefits or Paylocity integration so information gets sent over to them at the right time
Follow the steps below:
Click Payroll > Payroll Calendar to view a list of your eligibility groups and their pay frequency (example: semimonthly). In the example below, I have 2018 pay dates entered for New York and Stanford eligibility groups, but do not have them entered for Scranton.





TIP: The pay frequency was provided by your Advisor when you were implemented with Maxwell. If this needs to be changed, please reach out to Customer Support at

support@maxwellhealth.com

.





Click

Enter Pay Dates.

Now, you'll create your payroll calendar by entering the First Pay Date or First Pay Date and Second Pay Date (for semimonthly). Click

Create Calendar

and dates will generate based on what you entered and your pay frequency, for the next 36 months.




How dates are created based on pay frequency:


Weekly:

pay dates will be created every 7 days from the First Pay Date

Biweekly:

pay dates will be created every 14 days from the First Pay Date

Semimonthly:

pay dates will be created on the days of the month selected  for each month

Monthly: pay dates will be created on the day of the month selected for each month

Review the dates created and click directly into the calendar to adjust based on your exact pay schedule. For example, you may need to adjust for federal holidays and weekends. Once you're done, click
Update Calendar
and you'll be all set!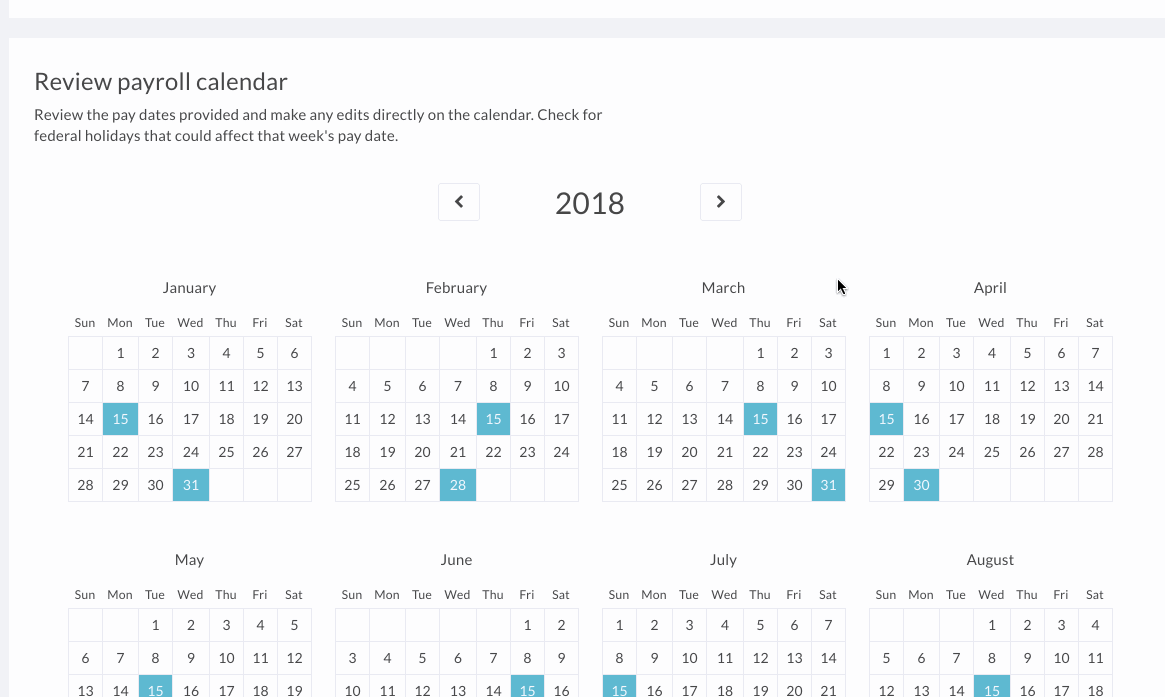 If you ever need to update your payroll calendar, click View Pay Dates. You can make any adjustments or extend your calendar by entering the next pay date after your last scheduled date. Extending your calendar will not overwrite your existing pay dates.



More about financial products
If the eligibility group includes a financial product (HSA, FSA, LFSA, DCA), you will see a warning if you haven't entered the expected about of paycheck dates for the entire plan year of those products. This warning may display if, for example, you have a biweekly payroll schedule and you've only entered 24 pay dates.




If you see this warning, we recommend that you review your pay dates and make sure you have them entered correctly according to your company's payroll schedule.

You may see this warning if you don't have all pay dates entered for the entire plan year. This could include dates before today's date. For example, if your HSA plan year is 1/1 - 12/31, you'll want to make sure your January dates are entered, even if you're entering them in February. That way, the system can count the exact amount.

If you update your payroll calendar, per pay period amounts for financial products will now be calculated based on the new payroll calendar. This may change the per pay period amounts that employees have been paying. Please note that this change is not automated, and will be handled by the Maxwell Team. If there's a change to per pay period amounts, they will appear soon after you've updated the calendar. If this change is urgent, please reach out to Customer Support at support@maxwellhealth.com.
More about payroll schedules and cost calculations in Maxwell
For products such as medical where the cost is determined by a monthly premium and not an annual contribution, the per pay period amount (deduction) will be calculated based on a typical calendar year (12 months). For that reason, we don't recommend entering your payroll schedule into Maxwell if your company supports an off-calendar year pay schedule such as a biweekly schedule with only 18 pay periods per year. Learn more about how Maxwell calculates per pay period amounts here >