Setting Require HR Approval on a Form
Electronic form settings in Maxwell allow an Administrator to determine review and approval requirements for forms that employees sign.
By default, when a form is added to your Maxwell portal, the "Require HR Approval" setting is turned on. If you would prefer to skip the HR Approval step for certain forms that employees are electronically signing:
Navigate to Tools > Forms > Manage Forms
Click on the dropdown arrow to the right of the form name and click "Settings"
Click the toggle under "Require HR Approval" to turn on or off the "HR Approval" requirement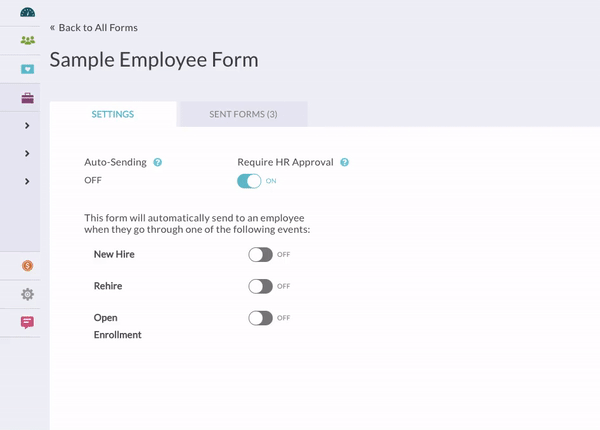 Steps to Approve a Form
Click the "Needs Your Approval"circle for the form you're looking to approve.

You'll see a list of employees who have signed this form, as well as the date they signed it and the date you sent it to them.

To view and approve an individual form, hover over the employee's row and click Approve Form. You will be brought to a DocuSign view of the form where you can review the fields completed by the employee.



You do have the option of approving multiple forms at once if you don't need to review each one. Just select the forms you want to approve, click Actions > Approve Selected. The forms you approve will automatically move under "Completed."

Please note: You cannot approve multiple forms at once if the form requires your signature. You will need to sign each form.



That's it! Your forms are now ready for download in the "Completed" circle.
Workflow for making edits to forms signed by the employee
You can make edits to fields the employee might have missed or filled out incorrectly. You'll be prompted to provide your initials next to the field before you approve the form.
The form will be routed back to the employee automatically for review, and an email notification will be sent to them. They will see that they need to authorize changes made by the Administrator.
Once they authorize the changes by providing their initials on the form, the form will be completed and ready for download, as long as they don't make any further changes. If further changes are made, the form will be routed back to the same Administrator who initialed the original changes, and placed in "Needs Your Approval" on the Administrator's forms dashboard.
About Standard Administrators
Standard Administrators who do not have access to view salary info for an eligibility group will not be able to individually approve a form with a salary field for an employee in that group. A Master Administrator will need to approve the form. The form will have a lock signal with some helpful info.