In Maxwell, an employee cannot be in an annual Open Enrollment and also a new hire event or qualifying life event. In this article, we'll review how to get employees with new hires/change events added to your OE before you complete setup, and what to do once OE has been setup and begun.
How to get employees with new hires/change events included in OE before you complete setup
As you set up your Open Enrollment, all employees who are new hires, in a change event, or have a future termination date will be listed under "warnings" in your OE Summary.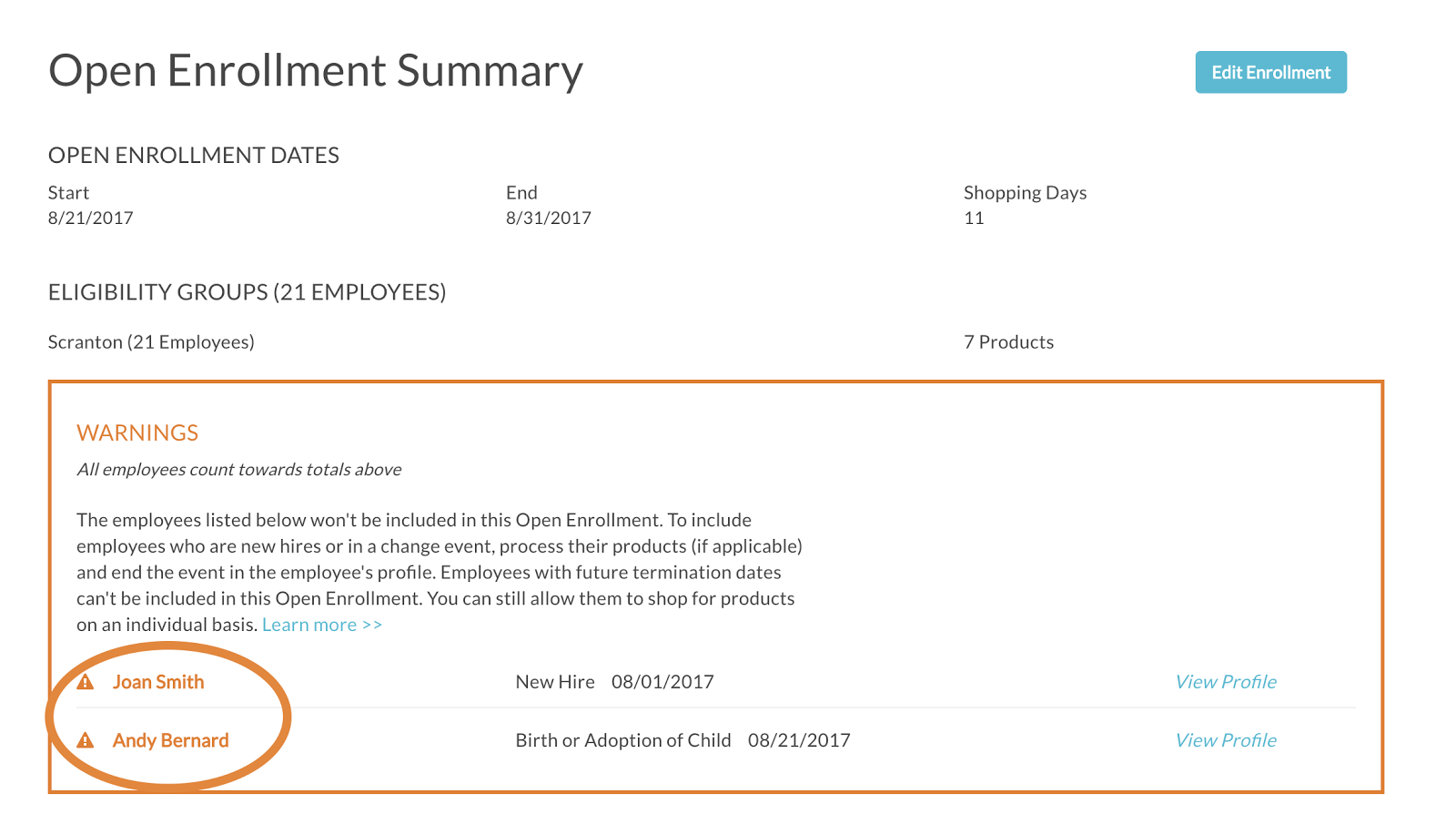 You'll also see new hires and those in a change event (other than "Administrative Change") on the Dashboard by clicking over to "Change Events":

At this point, before you complete the setup of the Open Enrollment, you'll want to explore your options for employees in new hires and change events. (We assume if an employee has a future termination date, they should not be included in the Open Enrollment).
First, you can try reaching out to the employee and ask them to complete their elections before the OE is set up. Once they're done shopping, you should then process products before you complete the OE setup. That way, they'll be removed from the warnings list and included in the Open Enrollment.
If they're a new hire, you can choose not to include them in the OE, and send them a welcome email after OE is over.
If it's getting closer to the time you need to complete setup and the employee still hasn't completed shopping for their products due to a change event, you can click End this Event on the employee's profile in Maxwell. That will change any products from "Open" to "Closed" and end the opportunity for the employee to shop due to this event. After this is done, they'll be removed from the warnings list and included in the Open Enrollment. After OE is over, you can kick off the change event again if necessary.
What to do about new hires/change events once you've completed setup/OE has begun
Once you complete setup of your Open Enrollment, any employees you were warned about on the Open Enrollment Summary draft will now be listed as excluded.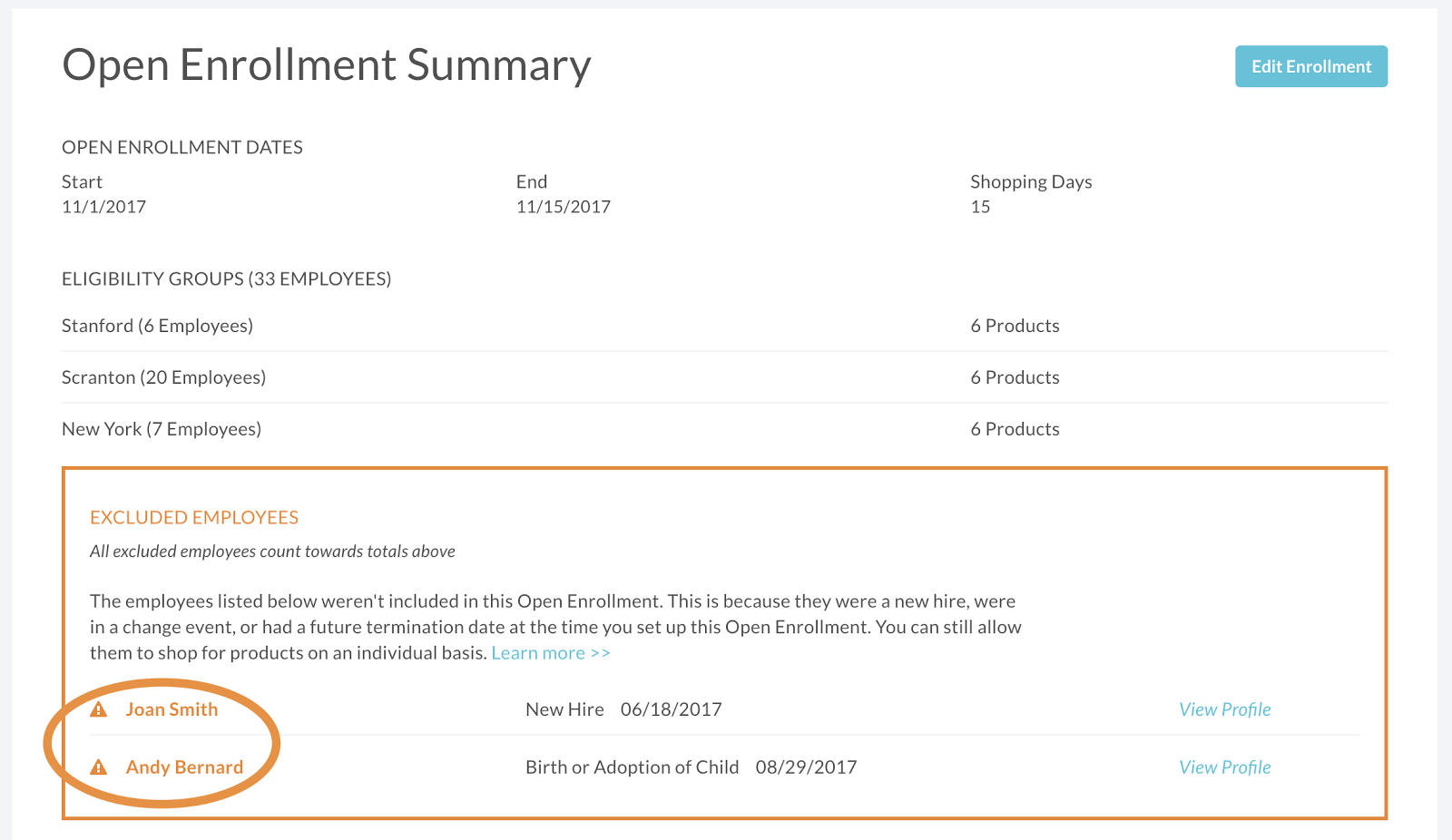 At this point, any of the excluded employees listed can NOT be added back into the Open Enrollment, even if you do close out their event. Here's what to do if change events and new hires happen after you've set up your OE.
If one of your employees experiences a life event after you've set up OE/during OE. During OE, the employee can change their future elections and associated details, as well as their personal information. If they need to change their current coverage, they may try to request a change. They'll see the following message: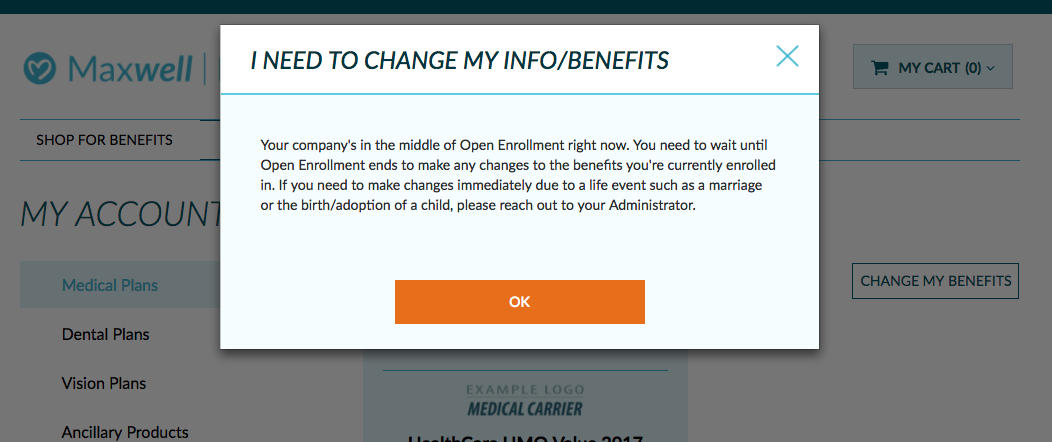 If the employee comes to you outside of Maxwell and would like you to make changes, we recommend that you ask the employee to finish their annual OE shopping and submit their qualifying life event once the OE period is over.
If you must, you can make changes in their employee profile on their behalf. During OE only, if you click
Edit Info
on the "Employee Info" tab or edit products on the "Eligible Products" tab, you will be able to do so without needing to identify a change reason. The system will know the employee is in Open Enrollment and allow you to do this.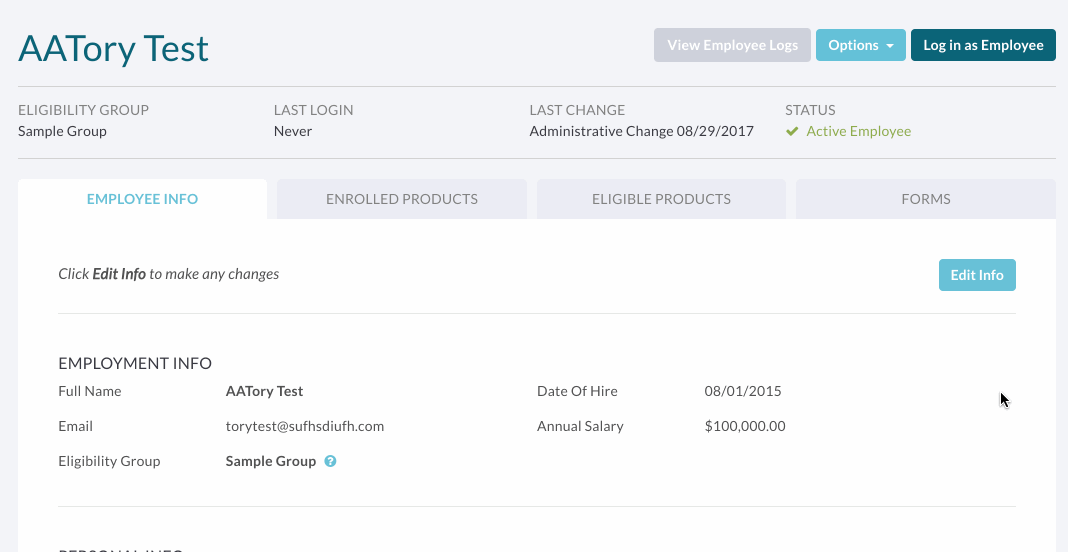 If you hire an employee after you've setup OE/during your annual OE period. Let's say you hired a new employee on 12/1/18 with a 12/1/2018 effective date for 2018 products, but your 2019 OE period is 12/1/18 - 12/10/18 for 1/1/2019 effective products. Of course, you want to make sure this employee gets coverage for December 2018 but also has the opportunity to enroll during their annual OE. You should take these steps:
Add the employee to Maxwell, but do not send out a welcome email.
Go to the new employee's "Eligible Products" tab and change the "Shopping Status" to "Closed" for any future (2019) products. Leave only the current (2018) products in an "Open" or "Selected" status.


Now, you can send the welcome email to the employee using the "Send Communications" tool. You may want to modify the email to include information letting them know they'll need to go through the shopping experience twice since your company is currently in an annual OE period (once for each set of products - 2018 and 2019 separately).
The employee should now log into Maxwell and shop for their 2018 products. Once the employee has finished shopping for 2018 products, process their elections to close out their new hire enrollment.
Now, take steps to end the event and set up OE for the employee (see below).
How to run OE for a previously excluded employee
As much as is possibly in your control, you want to include every eligible employee you can in the Open Enrollment event. Although not ideal, if the employee is excluded due to a new hire or change event, and you need to run a separate OE for them, it can be done. Follow the steps below:
 First, you'll go to the employee's profile in the Admin view and click End this Event.




Now, go to the employee's "Eligible Products" tab and select all of the 2019 products and click Bulk Edit. 

When you click Bulk Edit, you'll be asked to enter a change reason. Enter "Administrative Change."
Change the "Shopping Status" to "Open" and set the "Available to Shop" dates according to your annual OE (today's date as the "Start Date" and the annual OE end date as the "End Date"). Set the "Effective Date" according to your annual OE.
Note: At this point, the employee won't be officially part of the 2019 Open Enrollment, so they may see some differences in experience. For example:
They may need to request a change event to update their personal information or dependent information
They cannot shop passively for any 2019 products
Any forms encoded to populate "Open Enrollment" as the reason for the form would not auto-populate

When you're done setting up the products, click Done in the employee's profile in the Admin view.




You can now send a follow up email to the employee. Remind them they now need to select the OE products for the new plan year (2019).
Have the employee now log back into Maxwell and go through and select their future 2019 products.
When the OE period ends, process the employee's products in bulk.