Maxwell's language preference setting allows employees to choose whether to view text in English or Spanish (Español) for a 'choose-your-own' language experience. Whether they are logging into the Maxwell site by phone, tablet, or computer, the Spanish language translation option can help your employees navigate, understand, and enroll in benefits on Maxwell.
Included in this article:
---
How employees select Spanish as a language preference in Maxwell
Employees may select Spanish (Español) as the language preference from almost any page on the Maxwell Health website - including the login page!
Bonus! While Maxwell's default language preference is English, if a Spanish preference is detected on the mobile device or as a browser setting, Maxwell will automatically appear in Spanish on the employee's device.
To get started the employee will:
Click the language option in the top right corner of the menu bar.


Select English or Español and then save the language preference.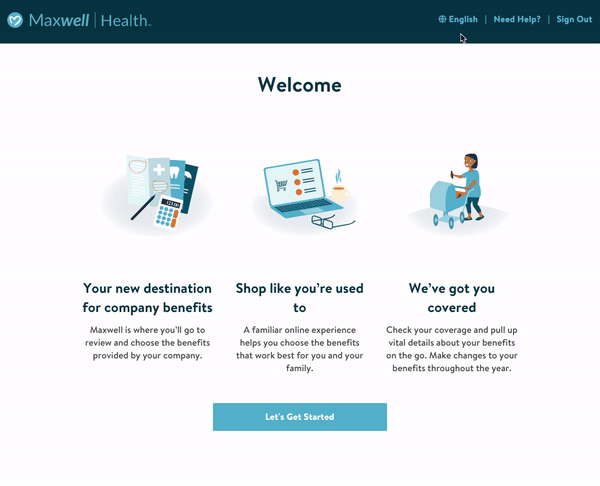 The employee can then view the language they've chosen throughout the entire Maxwell experience.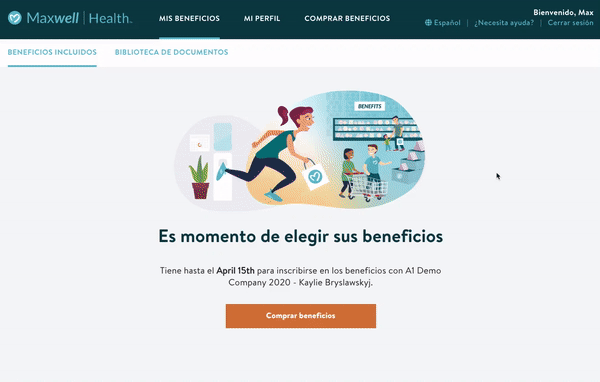 Once an employee has set language preference, it is saved in Maxwell. If the employee leaves the session and logs back in, Maxwell will automatically open using the previously saved language preference - English or Español.
Language Preference Setting on Profile
If an employee needs to change their language preference in the future, they can adjust it at any time by following the same steps listed above or by setting their language preference under the contact information on their profile.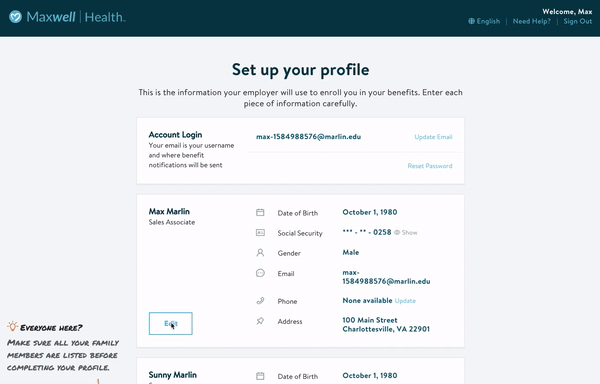 Please note: We do not currently support individual or bulk management of language preference as an administrative feature. It is up to the individual employee to set and manage their language preference.
What's included in the Spanish language translation
Maxwell's language preference capability for employees provides a full, end-to-end experience and includes all navigation, benefits and portal guidance. Employees are able to complete all the same activities in Spanish as they are in English in most areas of Maxwell including:
Login pages
My Profile
My Benefits
Shopping for Benefits
My Beneficiaries
Need Help?


Note: If the user opens the Need Help? modal, it will be translated. However, help articles are in English language throughout the employee help center.
Not sure what the Maxwell experience looks like for employees? Check out this article for more details on the employee experience.
What's not supported for translation in Maxwell
Due to the complex nature of benefits as well as employers' customization needs, there are certain areas that will not be translated. The areas that are not currently supported for Spanish language translation in Maxwell include:
Custom Fields
Benefit Plan Names


Ex: Cigna PPO 2020, Voluntary Life/AD&D

Benefit Plan Abbreviations

Benefit Categories


Medical, Dental, Life, etc

Benefit Plan Documents


While the documents themselves will not be translated by Maxwell, instruction text inside the Maxwell system will be translated.

Electronic Forms


If an employee needs to complete forms, the employee will be provided navigation and directions on next steps in Spanish, however, forms in Docusign will not be translated.

System Communication Templates


Standard system email templates are only supported in English language at this time. Please note this includes automated emails (like Password Reset). For more details on system communications check out the full list here.
However, you may choose to add Spanish copy to an existing email when you send to employees or create your own Spanish language templates.

Maxwell Customer Support and Employee Help Center


Maxwell's technology support team currently only provides English language support and will not be able to provide Spanish language support.
How Maxwell Translates English to Spanish
Maxwell has taken a unique approach towards providing a Spanish language experience for employees. Given the complex nature of benefits as well as employer's customization needs, the Spanish language feature in Maxwell uses a powerful combination of expert human translators and machine intelligence.
While Maxwell does it's best to provide a clear and easy to understand translation, there may be cases where a translation is unclear to your employees. If they are unable to understand areas that have been translated in Maxwell, we recommend employees reach out to their HR Administrator to clarify any questions on benefits that they might have.