WEX Health Inc., a WEX Company is one of Maxwell Health's chosen providers for HSA/FSA/HRA accounts for employers. Our integration with WEX automatically sends all of the required demographic, enrollment, and contribution information from Maxwell Health to WEX, for any of the following products your employer has in Maxwell Health:
Medical Flexible Spending Account (FSA)
Limited FSA
Dependent Care FSA
Health Savings Account (HSA)
Health Reimbursement Account (HRA)
Transportation Spending Account (TSA): Transit & Parking
How the integration works
Once the integration is set up and turned on, Maxwell will automatically send demographic and enrollment data to WEX on a regular weekly schedule and prior to the paycheck dates that you have set up in your portal.
Note:
It is very important that you set up your company's paycheck dates in your portal, particularly when you administer financial benefits to your employees. Please be sure to update your payroll calendar in Maxwell and make sure the paycheck dates are accurate so that the integration can sync at the right time. For commuter benefits, entering paycheck dates is required in order for the enrollment and contribution files to be sent. To learn more about setting up your payroll calendar,
click here
.
Weekly - every Friday night at 11:00 p.m. EST.
In addition to every Friday night, an automatic sync will occur three calendar days prior to each paycheck date you indicated.
This sync will include contributions for all currently enrolled products (meaning not pending) so that they're able to fund the appropriate account on behalf of the employee or employer.
Note: The integration will not send pending enrollment data until the Administrator ends the event (approved a life event or new hire, or ends the open enrollment). Once the pending product elections have been received and processed by WEX, they will appear in the employee's profile.
In the Integrations Log, view a status of your syncs, and a record of every sync that has occurred. The log can be found under Settings > EDI and Integrations > WEX > Log (see screenshot below).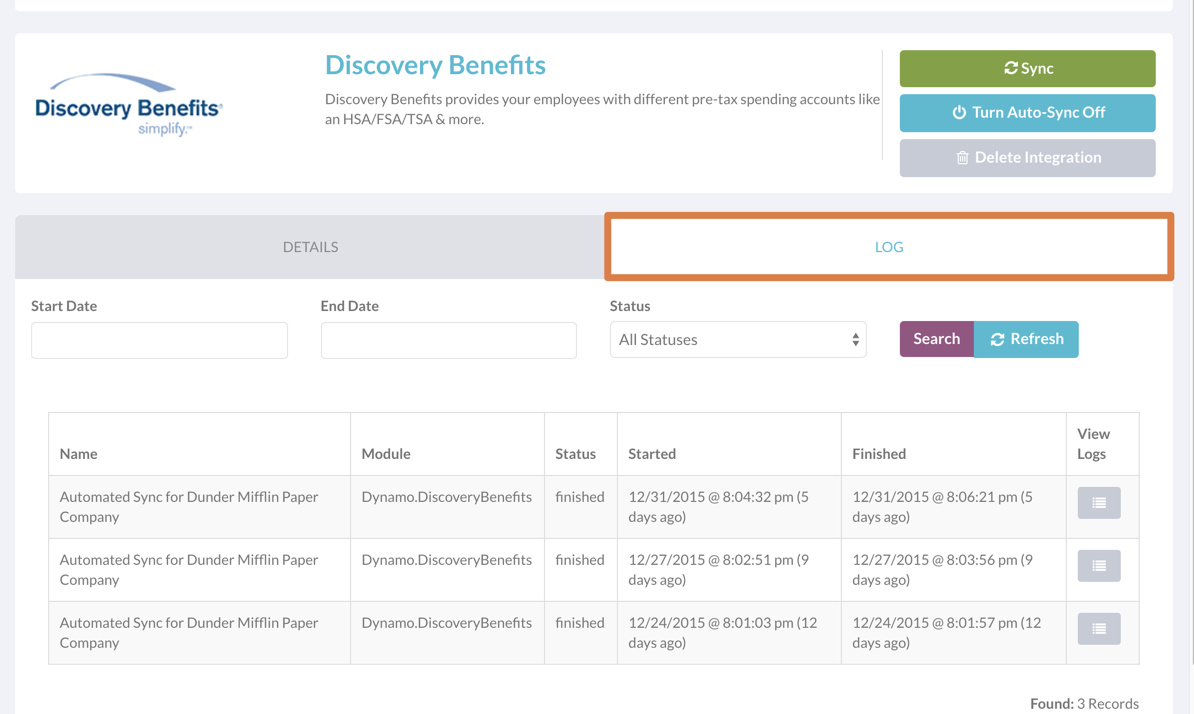 You can manually generate an integration sync at any time by clicking Sync, however, this is not recommended.
Pricing
Please see WEX for pricing information.
Plan funding
As the employer, WEX will charge the account you set up with them for all plan funding immediately prior to each paycheck date. You'll need to make sure the deduction amounts per paycheck get communicated to the payroll vendor accurately—run a cost report, which will give you these deduction amounts.
Get started
If you're an HR Administrator, please talk to your Implementation Consultant if you're interested in using the WEX integration. You can use this form to request the integration off-cycle.
Support
For technical questions about the Maxwell Health + WEX integration, please contact Maxwell Customer Support at support@maxwellhealth.com or (866) 629-7445.
For more general questions about the Maxwell Health + WEX integration, please contact the Maxwell Health Marketplace Team at marketplace@maxwellhealth.com. For questions regarding WEX products, please contact your WEX representative.
>> Please Note: The WEX offering through the Maxwell Marketplace as described above is not available to Clients situs in New York. However, if you already uses WEX administration, you are able to access the integration through Maxwell Health.