If you're like other Admins that use Maxwell, there's a chance you've wondered "can I schedule a report to run automatically?" Well wonder no longer. With the new year, comes new capabilities and the introduction of Scheduled Reporting in Maxwell.
Over the last year, we've been strengthening our database in the background and decided to take this time to add some features for you as well! We've just introduced a few small enhancements to ensure you're always viewing the most up-to-date data in the reports you schedule, generate and download in Maxwell. Read on to learn more.
Note: The following enhancements have been turned on in Maxwell for all Clients as of Wednesday, January 19th.
---
On-demand Session: Learn more about these reporting enhancements
Curious about how the new Scheduled Reporting works or what it might look like to set it up? Maybe you just want a quick overview of this update.

If that sounds like you, view this on-demand session now to learn more!
This short 30 minute session includes a previously live Q&A and reviews these new updates in Maxwell.

---
Automate your workflow with Scheduled Reporting
Take a hands-off approach this year and generate reports on your timeframe. With this update, you now have the ability to schedule reports to generate automatically on an ongoing basis.
Whether it's a weekly report to capture benefit deductions or a monthly COBRA eligibility report, set up your custom scheduled reports to run when you need them.
A few highlights:
Schedule reports to generate automatically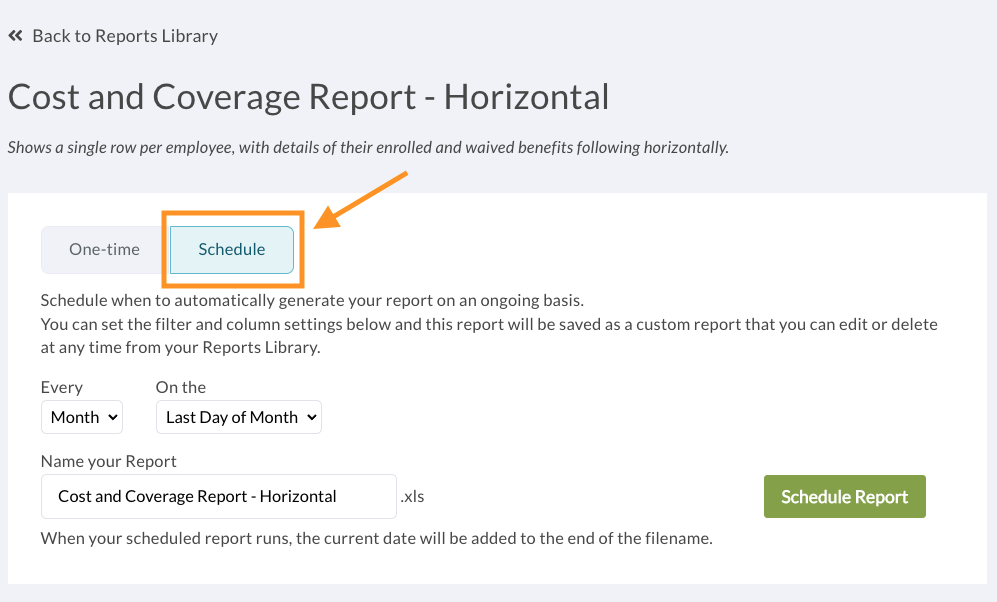 Set the timing that works for you

You can choose to schedule a report every week or every month and select the specific day of the week or date of the month depending on your setting.

Customize your report to show only the info that matters to you

You can set specific filters based on when your scheduled report will run. For example, if you want to schedule a coverage report to run every month, you can filter it to include only coverage for the 1st of the month when it is generated or select a date range.

Receive a notification when it's ready for you to download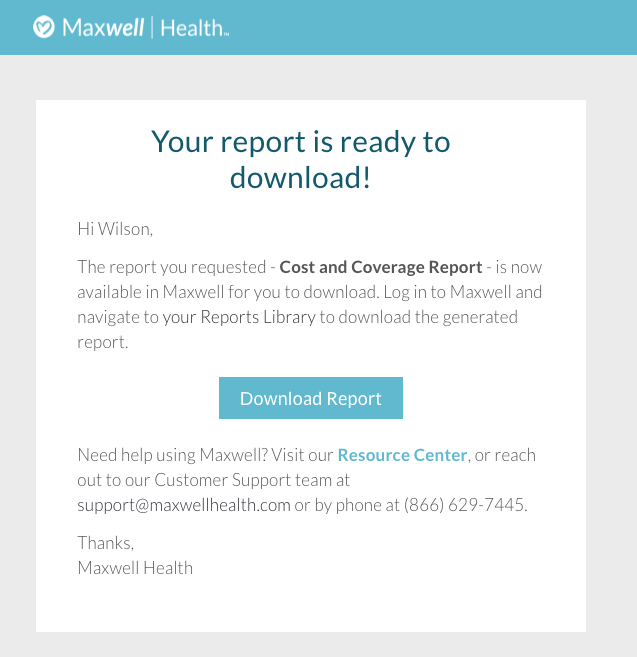 By empowering you to automate your reporting tasks, you can get even more out of the access you have to Maxwell's full reports library. Hands-off means you can focus on the other tasks you have in your day-to-day, and still stay on top of the data that matters.
Note: This scheduling feature applies to all reports in the Reports Library with the exception of the System Change Report. See more information below.
Easier access and visibility with your reports activity
Now, when generating a report in Maxwell, that report will be instantly added to the queue in your Reports Library so you can see when it's ready for you to download.
While your report is generating, Maxwell runs through your data and recent changes to make sure all recent updates are included in the report (so there may be a few moments before your report is ready for download). You can be confident that your report will include the most recent updates you've made to your employee and benefits information.
A few highlights
Recently Generated Reports section


Adding the Recently Generated Reports section gives you quick access to the reports you've run recently or any scheduled reports that may have run automatically. It also provides visibility into reports you may have queued up.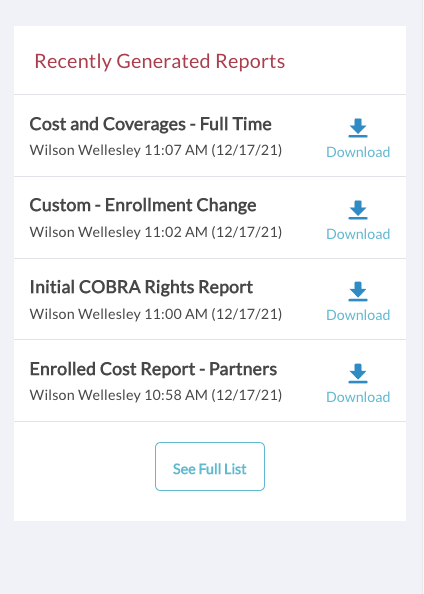 Simplified Reports Library design

This change also streamlines your Reports Library view without removing any of the standard reports we know you may be using regularly.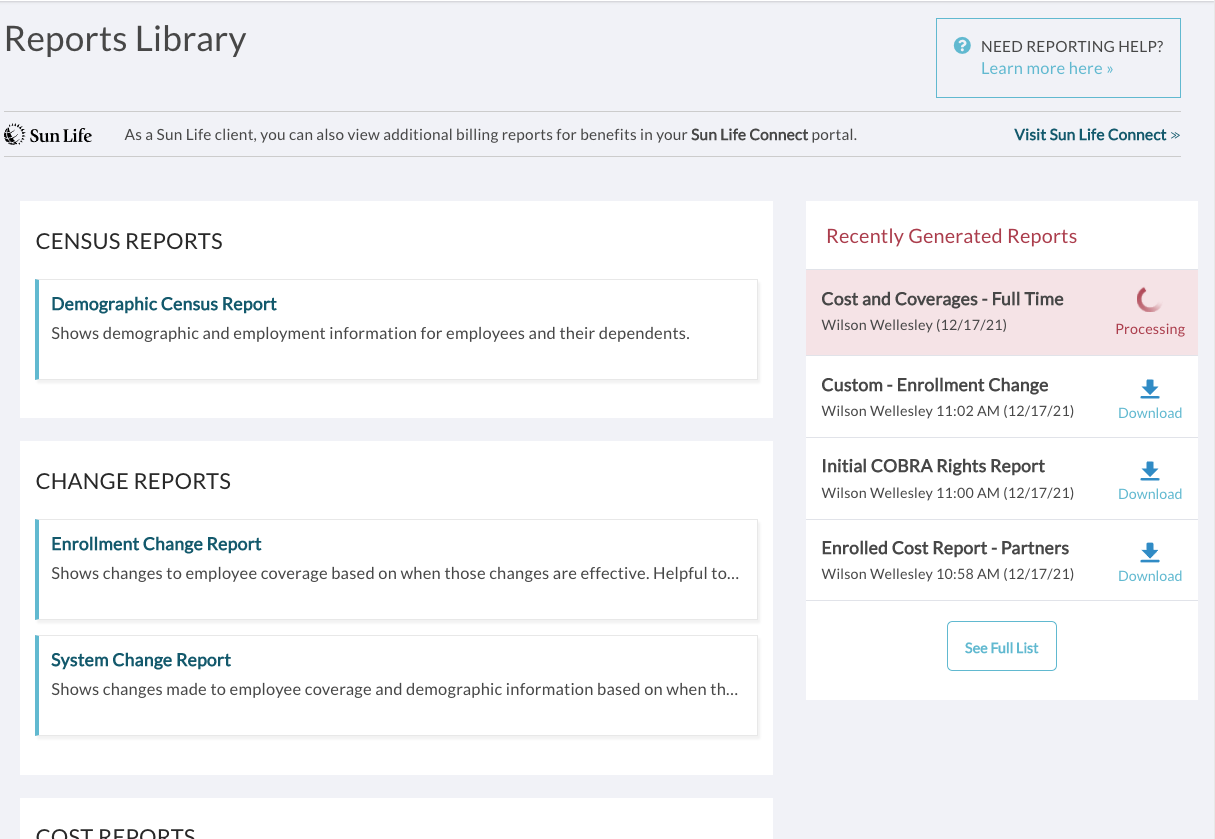 Why we think you'll love the new reporting view
Your updated reporting view gives you quick access to view and run reports along with visibility into the reports you've run recently or any scheduled reports that may have run automatically.
Since the recently generated reports view updates in real time, you can navigate away if you're working on something else while your report is generated in the background. You'll be able to see when your report is ready for download instantly when you come back into the Reports Library.

With this streamlined view, it should be even easier for you to get in, view your reports and move on with your day!
Get notified when your reports are ready to download
New email notifications can serve as reminders or keep you updated as reports you generate (one time or scheduled) are ready to download. You can stay on top of your reporting needs while you go about your other tasks - without being tied down to the Reports Library.
Email notifications are sent to you whenever a report you've generated is ready for download.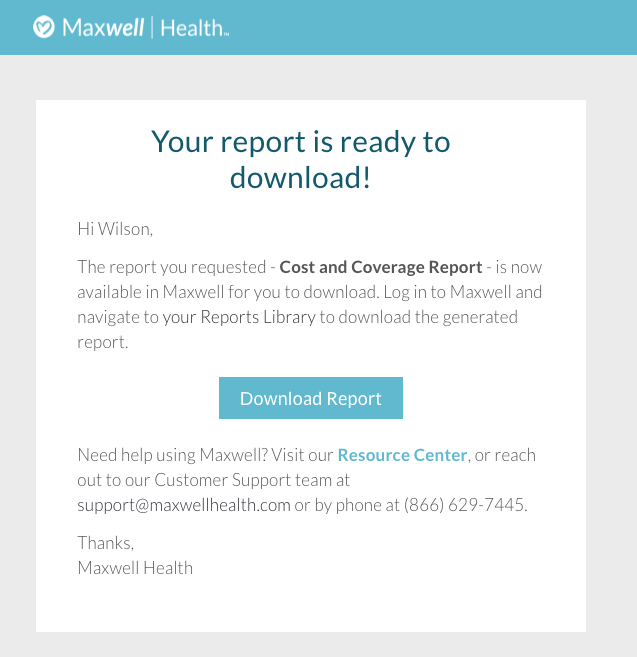 What else should you know?
This enhancement does not change any report permissions in Maxwell.

Report permissions for Master and Standard administrators still apply. This will include possible limitations on access to certain employee data and eligibility groups in reports generated, as well as permissions and access to generated reports in the Reports Library.
For more detail, please see the note on Administrator permissions here.

Email notifications for generated reports will only be sent to the individual who generated or scheduled the report to run.
The new reports feature giving you the ability to schedule a report applies only to the reports included in Maxwell's Reports Library (with exception of the System Change Report, which can only be generated on-demand).

Scheduled Reporting is not available for reports viewed in other areas of Maxwell, such as the Dashboard download, Payroll Changes view or integration-specific reports.