One of the first things you'll want to do after logging into Maxwell for the first time is set up your Employer Preferences. You can find this page under "Settings." In this article, we'll review each Employer Preference.
Before we begin, please note that only Master Administrators have access to the Employer Preferences.
Default reply-to address


Here, you can enter in an email address that you'd like to be the default reply-to address on all communications that are sent to employees from the Maxwell system. This will save you time when you go to manually send emails, as the email will already be populated as the "Reply To:" address, which you can always update if needed.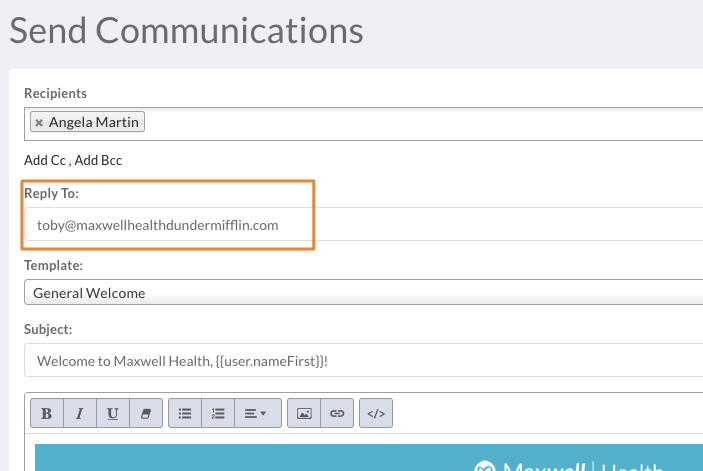 Note that all emails sent from the Maxwell system are sent from the email address "noreply@maxwellhealth.com." However, if the employee does reply to the email, it will be sent to the reply-to address, if specified. 

Default welcome email template

Here, you can choose your default welcome email template, whether it's the Maxwell system template "Welcome & Plan Select - New Hire" or a customized email template you've created on your own. When you go to add a new employee (whether individually or in bulk via Bulk Upload), the welcome email template you selected here will default as the choice, which you can always change to another email template if you'd like.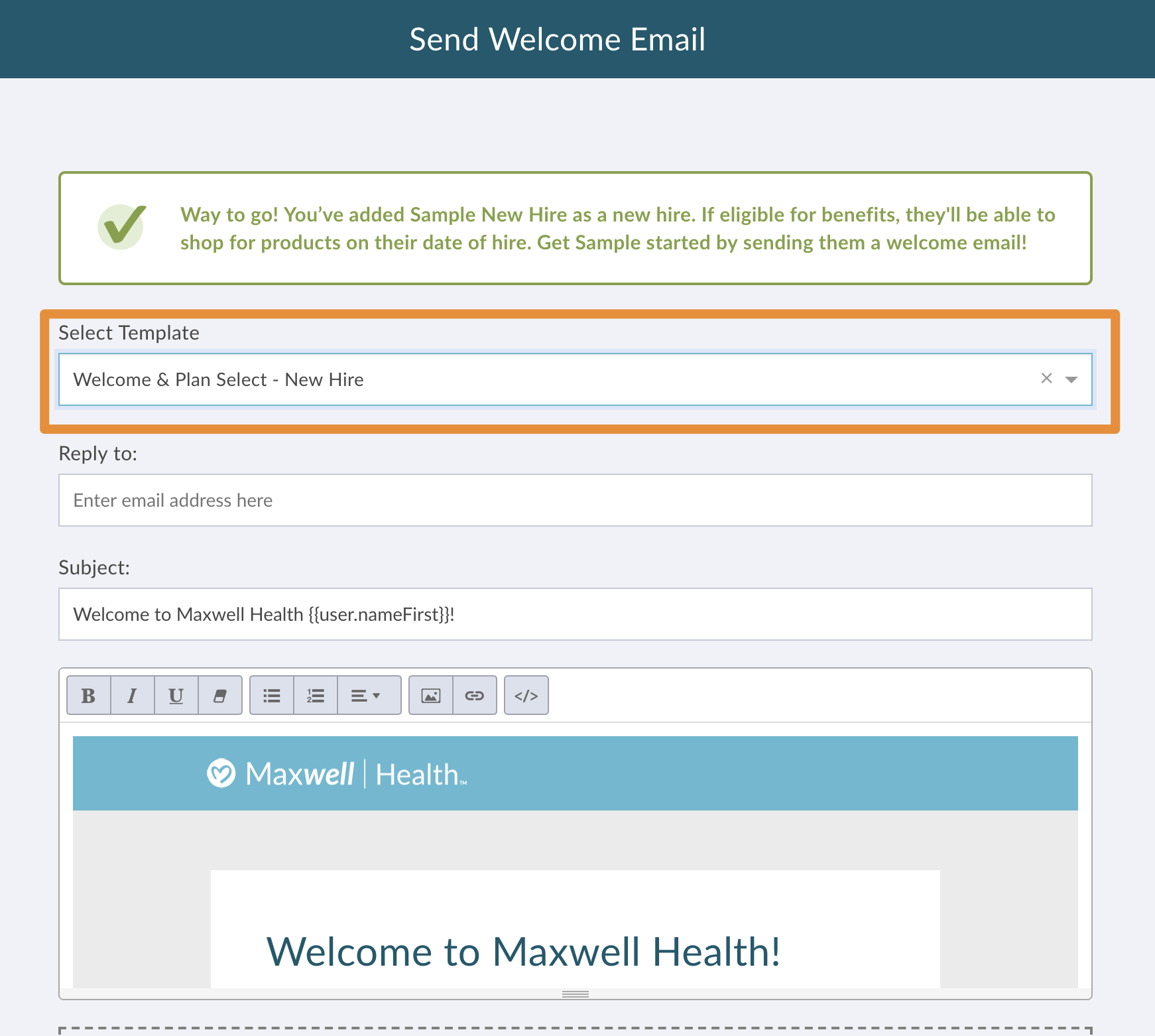 Fields required when adding dependents

Here you can determine which fields (if any) should be required for the employee to complete when they add a dependent to their profile. If you have an EDI connection, we recommend requiring SSN, as many carriers need that information to enroll dependents.

Note:
This preference does not require the Administrator to enter this information when editing dependents information. However, if SSN is required and has been entered on the dependent, the Administrator will not be able to delete the SSN (only update it).

If you already have dependents in the system when you update this setting, the required fields will only apply to new dependents and to any existing dependents if the employee or HR administrator goes to edit their information.
Sandbox mode
Most of the time, you'll want to have sandbox mode disabled. This means your Maxwell portal is up and running.
You may want to have your portal in sandbox mode when you first receive it from your Advisor. This allows you to do testing as while in sandbox mode, employees cannot log into Maxwell, and any data connections (including integrations and EDI) will fail. You can test employee communications and system notifications at this time, as emails will not send to employees. Enter the email address where the emails should be sent so you can make sure everything looks good. Please note that any changes you make while in sandbox mode will remain after sandbox mode is disabled, so you'll want to be careful about removing any test employees after you add them.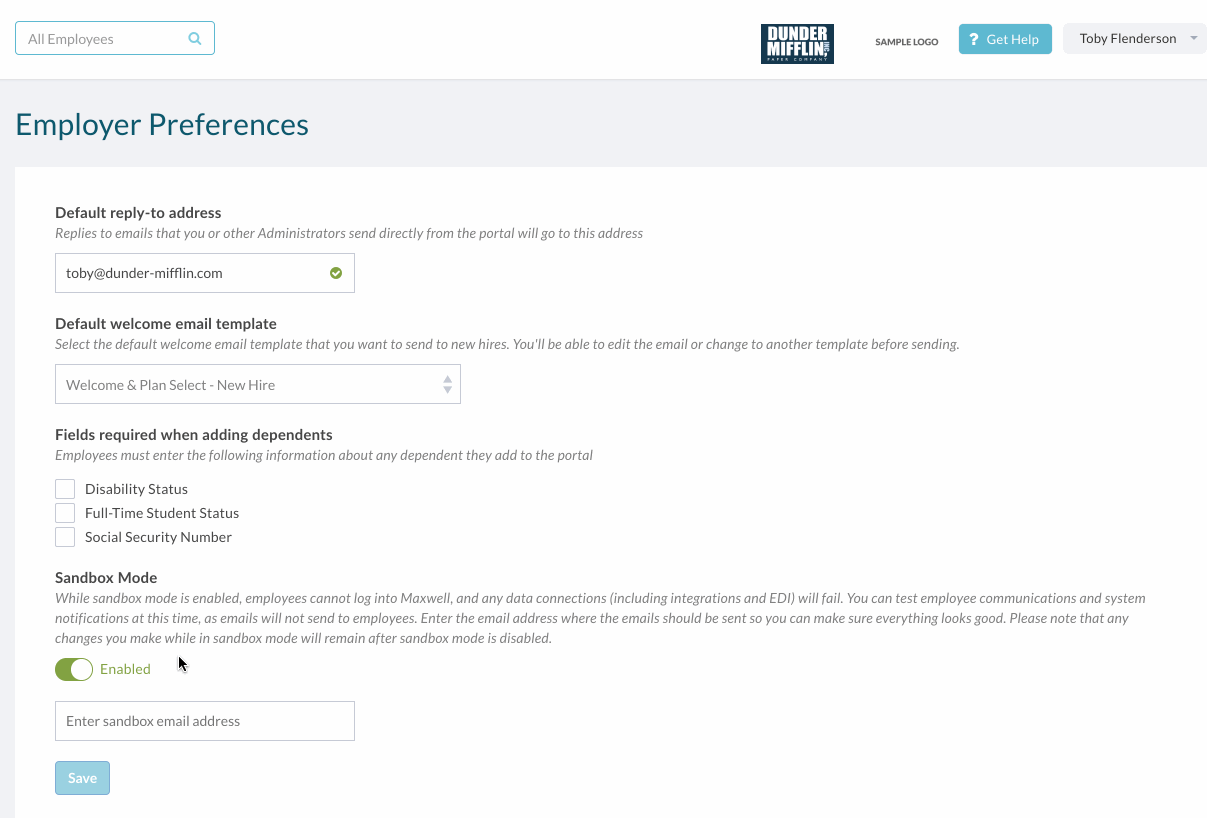 Salary Effective Date and Changes

With this setting, you can determine which salary the system should look to when determining the coverage options and costs of an employee's enrollments in salary-based benefits. Read more about salary changes and how they impact benefits here >