Maxwell continues to listen to feedback and work on improvements to make your benefits experience easier to manage. We have a few small updates that we hope will enhance your experience as you work in Maxwell. Check out below for more details!
---
Setting up an active or passive Open Enrollment
We've made a small improvement to the open enrollment setup steps to make sure you don't miss any important setting when going through your own setup.
Now as you head in to select the benefits included in your Open Enrollment setup, you'll see a more proactive option to select either 'Active' or 'Passive' on each benefit.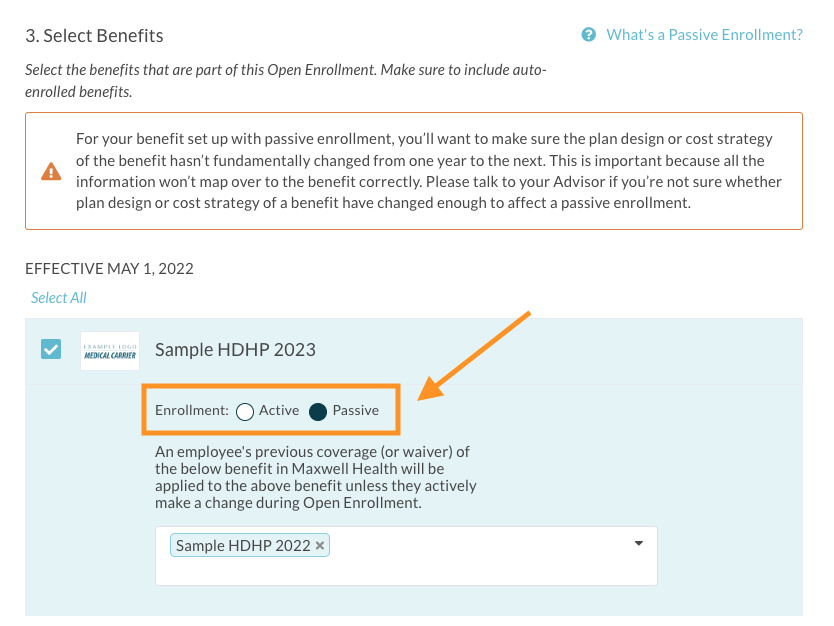 With this update you'll notice:
This option will now be required to set on each applicable benefit before moving forward with your OE setup.
Auto-enrolled benefits are set up automatically and do not require a selection.
The 'Active or Passive' option is not applicable for financial benefits which require the employee to make an active election each year.
Learn more about Setting Up Open Enrollment in Maxwell here >>
---
Introducing a small upgrade to how API integrations handle terminations
If your company uses both Maxwell Health and a Payroll or HRIS API integration, you've already seen how technology makes it easier as you administer your benefits and manage your employee information.
We wanted to let you know that Maxwell has recently upgraded our API integrations to provide some adjustments to make your life even easier. If you use an API integration with Maxwell, you no longer need to take the extra step to terminate benefits for employees after their termination date syncs from your integrated system.
Maxwell now automatically sets the termination date on employees' benefits based on the benefit termination rules.
Note: For COBRA eligible benefits, you will still want to take the steps to confirm COBRA eligibility from the notification you receive on your dashboard.
We've upgraded all existing users automatically and your integration setup and the day-to-day background sync experience remains the same.
Learn more about employee terminations with your specific integration:
---

Thanks for reading! As always, we'd love to hear your feedback!