When your annual Open Enrollment (OE) period comes to an end, there are a few steps you'll want to take to close it out. This article will review each of the following steps:
Check that all employees have completed their enrollment
On the last day of your annual OE period, you'll want to make sure all your employees have completed shopping. Check your dashboard for any employees who are still listed in the "Not Started" or "In Progress" circles. These employees may not have completed shopping.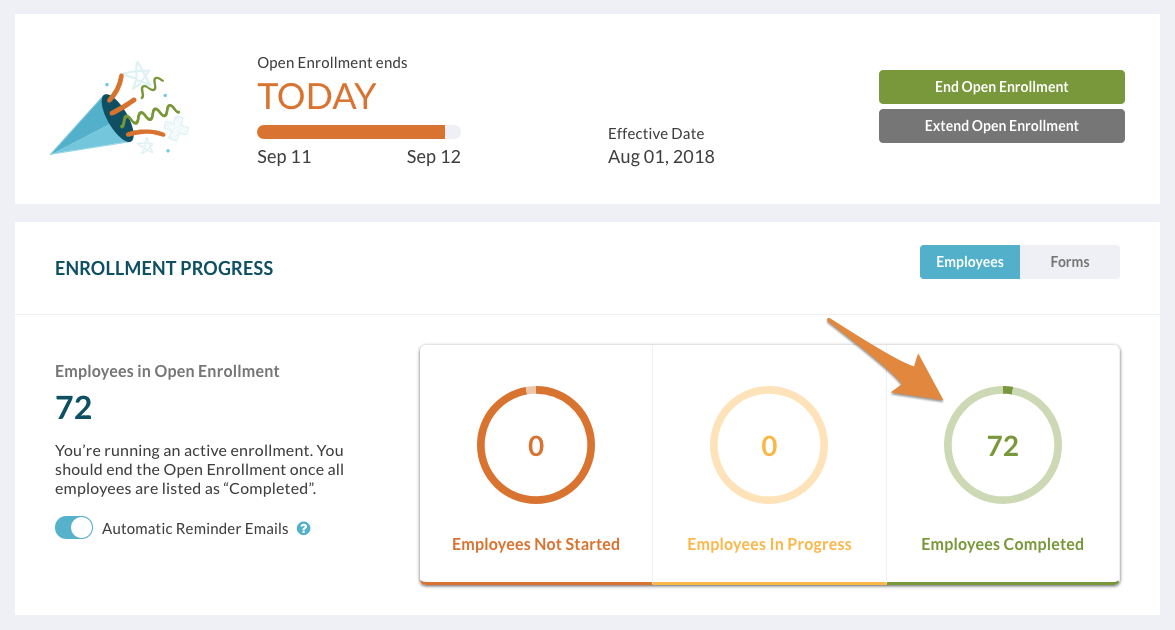 NOTE:
If you're running a passive enrollment, it's OK if employees are listed as "Not Started" or "In Progress" when Open Enrollment ends because their coverage will roll over into the next plan year.
What if I have employees that still haven't finished? How can I extend enrollment for them?
If you have employees who still haven't finished their enrollment on the last day of their annual Open Enrollment period, you should first encourage them to finish by the end of the day. You can send them an email reminder right through Maxwell by clicking the "Not Started" and/or "In Progress" circles.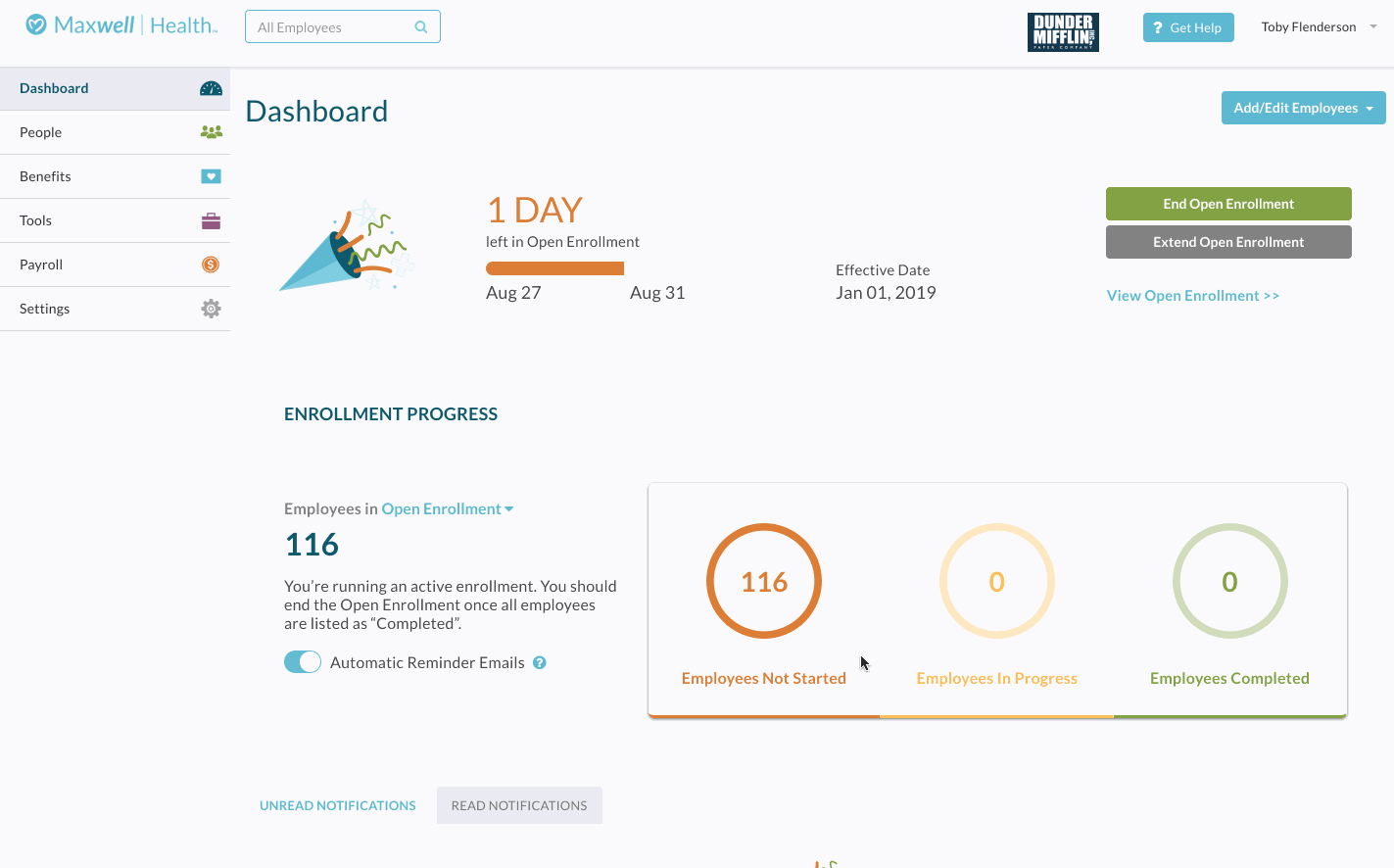 If you don't think these employees are going to finish in time, you can extend the annual Open Enrollment period. Learn how to do that in this article>
What if I still have warnings that appear on my dashboard for missing salary or demographic information?
If your employees still have missing salary or demographic information that is required for employee enrollments, you will not be able to end the enrollment event. You or the employee will need to complete any required information in order to enable the End Open Enrollment button.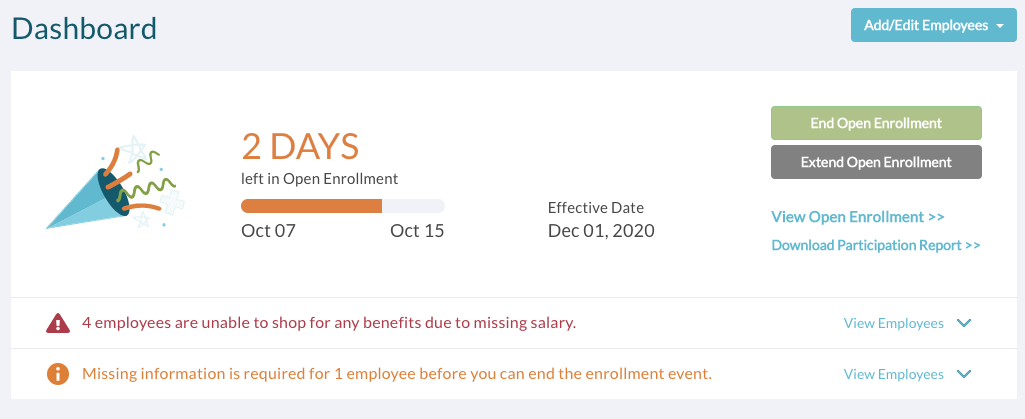 You have a few options on how you can update this information:
If your enrollment time period is still active, you can remind individual employees to login and complete information.
You can go directly to an individual employee's profile to complete any missing information.
You can use the bulk upload tool to update information across multiple employees.
View more details about alerts related to Open Enrollment events here >>
End Open Enrollment in Maxwell
Congrats, all your employees have checked out of Maxwell successfully! You're ready to end your Open Enrollment. As soon as you get a chance, click End Open Enrollment from the dashboard. (You'll want to do this right after OE ends because ending the enrollment allows employees to request change events.)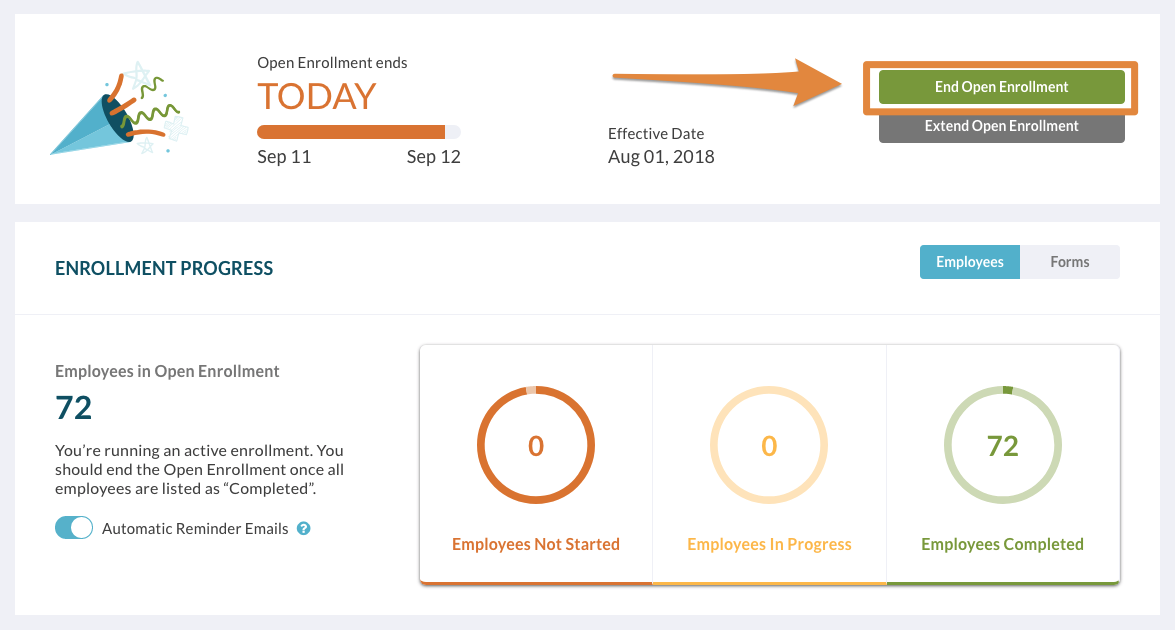 A pop-up will ask you to confirm you're ready to end Open Enrollment. Here's what you should be thinking about:
Make sure your employees are definitely done shopping. You won't have another chance to extend Open Enrollment after this point.

Your employees' elections will become enrollments in Maxwell as soon as you click Yes, End Open Enrollment. This means products will be automatically processed. This includes elections that were:

Passively carried over from the previous year
Auto-enrolled

For an active enrollment, the system will not process any elections that the employee added to their cart but did not check out with.
It's OK if employees still have forms to sign and evidence of insurability is pending approval. You'll take care of that later.
Note: If you end your Open Enrollment early before the OE End Date, the OE End Dates will update to the date you ended the Open Enrollment.
Once you end your Open Enrollment in Maxwell, you'll be guided on next steps.
Review any elections pending EOI approval
You'll see a "heads up" if you have any elections that are pending evidence of insurability (EOI) approval. After EOI is approved by the carrier, you should process each product.
This message will not clear once you've taken care of the products, but you'll know you're done if you download the corresponding report and don't see any values.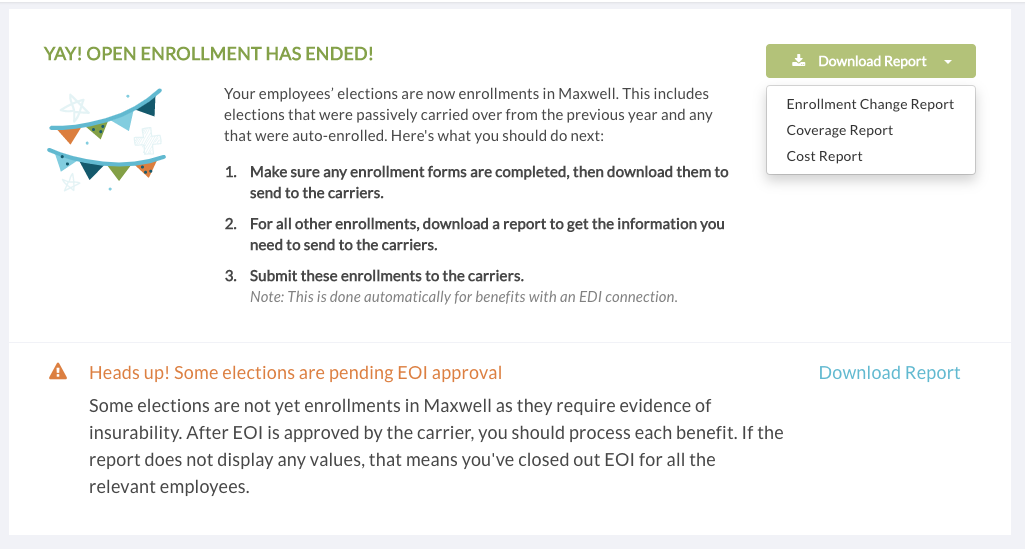 Submit employee elections to carriers
Yay, Open Enrollment is over! Now, you'll want to submit the elections to carriers. How you'll do this depends on the carrier, as they vary in the format they accept election information. Below are some examples:
EDI Connection- Some products in Maxwell may have an EDI connection with the carrier. This means that election information will be sent over to the carrier automatically.

Items to keep in mind with EDI connections and enrollment events:

Expected timing: Most carriers have a specific day of the week where files will be picked up and sent on the EDI feed. For annual enrollment events, files are typically sent to carriers within two weeks from the date that the enrollment event is ended in Maxwell. This timeframe includes a data and operations audit and review process.
Existing file feeds: If you have existing feeds live prior to your annual enrollment event, those weekly file feeds will be paused temporarily during the enrollment event. During this time, you will need to manually provide enrollment changes for current benefits directly to the carrier. This applies to the "current" benefits, not the benefits included in your annual enrollment event.

Examples of enrollment changes include new hire events, employees newly eligible, dependent lost/gain coverage, etc.

Forms - Some carriers require that forms with election information are submitted to them. If that's the case and you had forms set up in Maxwell for your annual open enrollment, you should make sure that your employees have completed these forms. Head to enrollment progress dashboard under Benefits > Open Enrollment > Set up Open Enrollment > View Open Enrollment and see if there are any forms in the "Forms With Employees" circle. If there are, you can send employees a reminder email right from the dashboard.



If there are any forms that need your approval, be sure to approve them as soon as possible. Then, the forms will be completed and you can download them in bulk as a zip file to securely send to the carrier.


Web-Based Enrollment Portal- Most carriers offer a web-based enrollment tool on their website. In this case, you'll want to generate a report out of Maxwell to provide you with information to input into the carrier's web portal. Click the "Download Reports" dropdown to see the Enrollment Change Report, Coverage Report, and Cost Report ready to go:



The Enrollment Change Report will take you to the Reports Library so you can pick the filters and columns that work best for you before downloading. The other reports will download right to your computer from here. They come pre-formatted with the filters we think you'll find the most helpful at the end of the Open Enrollment, but you can also run these reports again or with different filters by going to Tools > Reports > Library. Learn more about reports here >


Carrier Reports/Spreadsheets - A carrier may have its own report with file specifications which differ from what is provided in Maxwell's system reports. In this case, we recommend that you run or request one of the reports referenced below and once you have the result, reformat it into the carrier's specifications.
You may want to go back and turn back on the preferences that were switched off temporarily for annual OE. Go to Settings > Notifications and set up the "Employee Confirmation of Benefits" system notification. This means you'll receive an email every time an employee confirms their benefits. Learn more about notifications here.
Additional items to consider updating
Update product deduction codes (if applicable) - If you're offering a new product in Maxwell that has an employee cost, you'll want to add the deduction code in to make reporting easier. You'll also want to update the deduction code mappings for any products that are carried through renewal (they do not carry over to the next plan year). Learn more about deduction codes >
Update your payroll system with new deductions - Run the Enrollment Change Report to see changes to the employee per pay period amounts that you may need to adjust in your payroll system. You can also run the Enrolled Cost Report to see all final amounts.
Add member IDs - Once your employees have been enrolled with the carrier, you may want to add member IDs to their products in Maxwell. This will ensure that employees have access to that information via their Maxwell portal and the mobile app when seeking services from a provider.
Post OE corrections and changes
As your annual OE comes to a close, you may find that you have a few changes or corrections to make to employee elections. You can make these changes quickly by making a correction.

Some scenarios to guide you through common changes and corrections to the employee's enrolled products:
Need to switch the employee's OE election from one product to another in the same category

Scenario: Employee was processed and enrolled in Medical Plan A effective 01/01, but now needs to be moved to Medical Plan B effective 01/01), you'll need to delete the product before enrolling the employee in the corrected coverage.

A product that's already been processed as enrolled now needs to be waived

You'll need to determine the best course for correcting that coverage. You may need to take steps to terminate the product, or it may be a situation where you will need to delete the product.
Scenario 1: Employee was previously enrolled in Medical Plan B, but elected to enroll in Medical Plan A during OE. If the employee's OE election (Medical Plan A) needs to be removed from the employee's coverage, you'll need to delete the product.
Scenario 2: During OE the employee elected to continue that coverage in Medical Plan A, but it now needs to be terminated as of the renewal date. You'll need to follow the steps to terminate the product.

Need to adjust an employee's coverage level from what was processed during OE. Take steps to add or remove a dependent from coverage.